Goma Prayer
Raging flames, burning away worldly desires
Goma means "to burn" in Sanskrit. As fire burns away everything on the ground, including even defilement and worldly desires, it is believed to be sacred. We offer your wishes at "Gomadan" altar by making a holy fire in front of Honzon (principal image of Buddha), Kurikara Fudo Myo-o.
365

dayYour wishes will be offered in prayer all year round.
Inunakisan Shipporyuji offers Goma prayer every day to pray for the achievement of your wishes. We provide variations to suit your needs.
Prayer for
Family safety / Business success / General well-being / Health / Disaster prevention / Misfor-tune prevention / Removing bad fortune related to unlucky directions / Increasing luck / Wish fulfillment / Academic achievement / Health re-covery / Traffic safety / Success at examina-tions / Match-making success / Child protection / Safe delivery / Preventing diseases / Success-ful operation / Severing unwanted connections / Memorial services for ancestors / Memorial service for stillborn and aborted fetuses / Me-morial services for animals / Disenchanting sa-cred items for disposal / Others by consultation
Flow of Goma Prayer
After your application is completed, please go to the main hall. We will offer a prayer.
Please feel free to ask us if you have any inquiry.
Reception

At the reception of the main hall, please fill out the application form and pay prayer fee.

Preparation

Please enter the main hall about 15 minutes before the prayer starts. In the main hall, please be seated and wait quietly until the prayer starts.

Prayer

We burn wooden boards called Gomagi at gomadan altar and call your names and wishes.

About a wooden charm called Gomafuda

Spirits and lives reside in Gomafuda. After the prayer, we will offer you Gomafuda, and display it at a pure place in your home or office to enshrine.

About a visit of thanks to a shrine

If your wish comes true or a year passes, please pay a visit of thanks to the shrine, return the charm and receive a new one.
Type of Goma
We offer a wide variety of Goma depending on the duration of prayer and Gomafuda.
Please let us know if you have any inquiry.
For those who cannot visit our temple, who live in a remote place or who have trouble walking.
We can send Gomafuda by mail.
Only available in Japan
Please contact the temple office by sealed letter, telephone, FAX, or e-mail. If you want us to send Gomafuda, you need to pay extra charge. We'd appreciate it if you can take this into your consideration.
Address

Shipporyuji 8 Ogi Izumusano city Osaka-fu

TEL / FAX

+81-72-459-7101
We would appreciate it if you could come directly to the temple and apply for the prayer in person.
Goma prayer on the same day
You can participate in one-day training experience and Goma prayer on the same day. By praying after purifying yourself physically and mentally, you can brace yourself. It is said that by doing so, the effect of prayer is further increased.
Please let us know when you apply, if you would like to take part in both of them.For information on one-day training experience, please read here.
※ There is a possibility that we might not be able to meet your request depending on the season or unforeseen circumstances. Please ask us beforehand.
About Goshuin
At the main hall, we offer a Goshuin stamp as a proof of your visit to Shipporyuji.
How to appy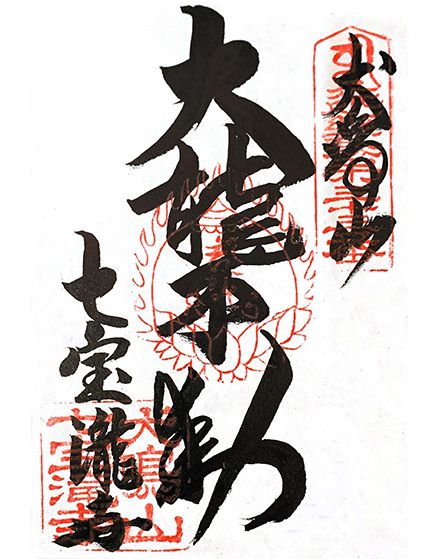 大龍不動
Please bring your Goshuin-cho notebook to the temple office.
Goshuin:300 yen
Reception time:From 7:30 am to 4:30 pm
※ Goshuin is a proof of your visit. We offer only those who visit out temple.
※ We might ask you to wait for a while if there is a great demand for Goshuin. Thank you for understanding.
※ Also, there is a possibility that we might not be able to meet your request depending on the season or unforeseen circumstances. Please ask us beforehand.