Shugen Hall
Treasures of Shipporyuji
We display treasures and materials related to Shugen-do on the third floor of Shugen hall (archive center), and exhibits Buddhist statues, ritual implements, and documents associated with the legend of Mt. Inunaki. Also, we have a ceiling painting created by 25 members of "Konohana Kai" including a Buddhist nun, Otsuka Zenkyo, who received the teaching from Oishi Junkyo. It is the first Shugen-do Mandala in Japan.
Some of the exhibitions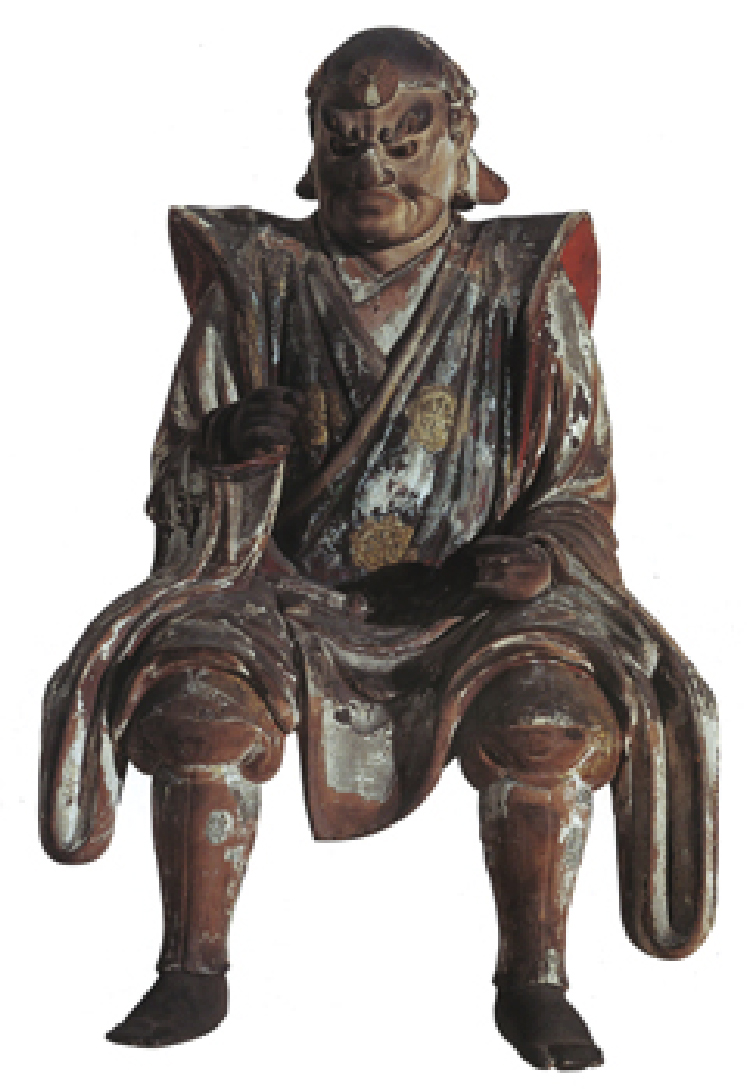 Tengu Gyoja Izo
A sitting statue of a long-nosed god (known as Tengu) wearing clothes for ascetic practices.
On the clothes, wheel-shaped patterns called "rinpo" can be seen. And the statue has gyokugan, or jade Buddhist eyes. Shugen-do practitioners in the mountain originally had much to do with the mountain god Tengu.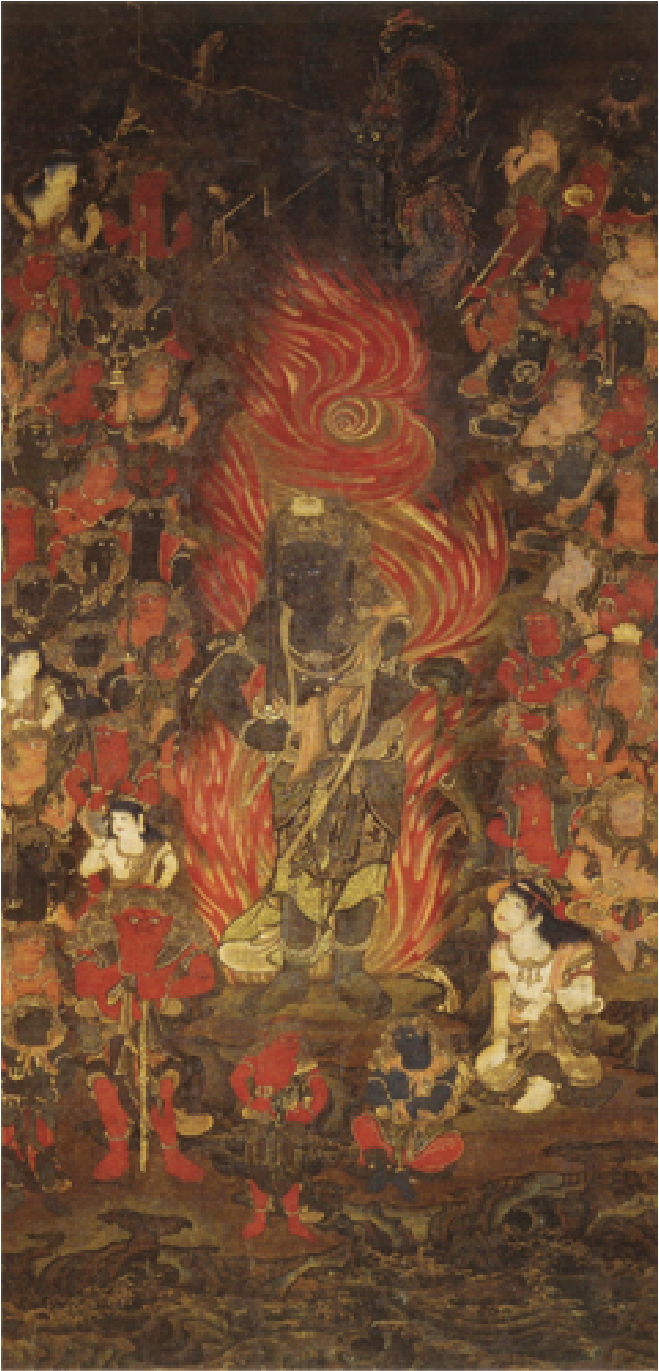 Fudo Myo-o Nidoji Shijuhachi Shisha Zu
This painting was created in compliance with the sacred book in which the rituals and rules of the esoteric Buddhism are recorded, called "giki" You can see Fudo Myo-o standing against swirling flames and his two child acolytes, Kongara Doji and Seitaka Doji.
Also, his 48 servants are shown in the painting. The seated statues are on your right and the standing statues are on your left.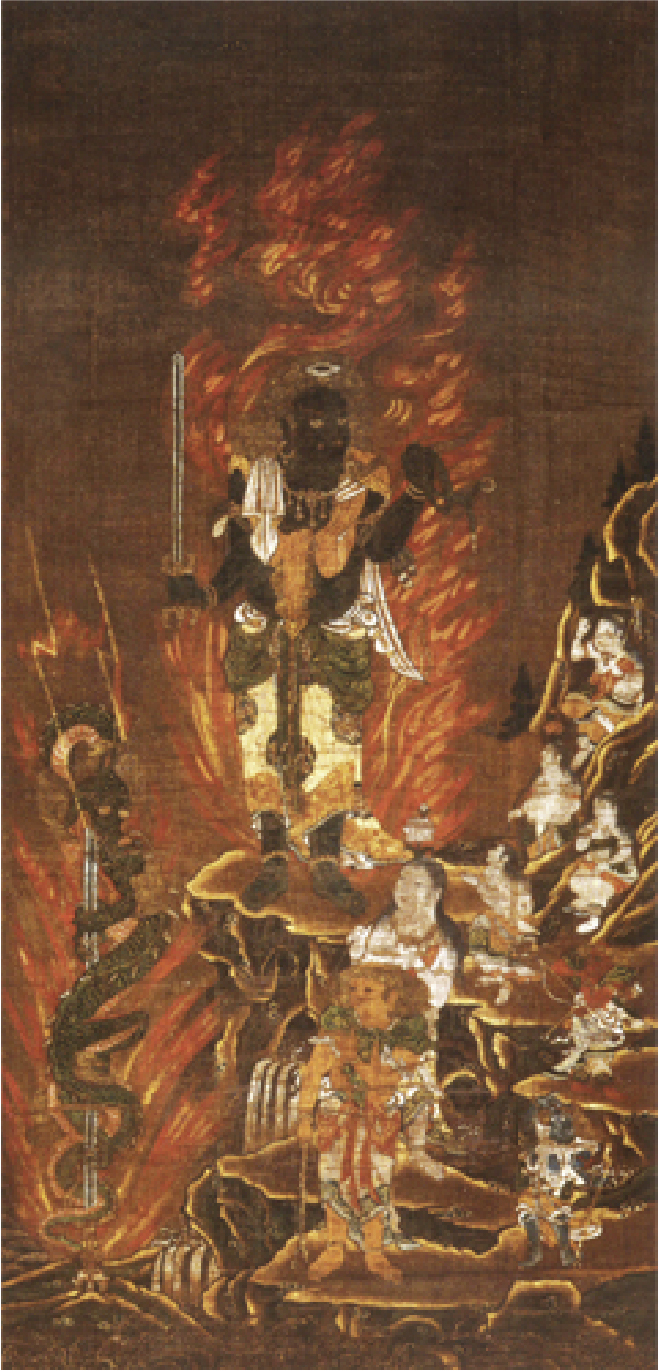 Fudo Myo-o Hachidai Doji Zu (Fudo Myo-o and Eight Child Acolytes)
This is a picture made in the Muromachi period. In addition to Kongara Doji and Seitaka Doji, other six child acolytes (Doji) are drawn. On the lower left side of the painting, you can see Kurikara Ryu (a dragon) twisting the treasured sword. From this point, it is clear that this picture was painted for this temple. Blue Fudo stands on a sheer cliff with his treasured sword and a noose called "kensaku." He has curly hair, opens his eyes wide and turns to the right side. His face is filled with extreme wrath. Below him, a sword entwined by Kurikara Ryu and his eight child acolytes are drawn. This was ascribed by Toubai, who practiced in Mt. Koya, studying under Sesshu, known as a prominent Japanese master of ink and wash painting from the middle Muromachi period.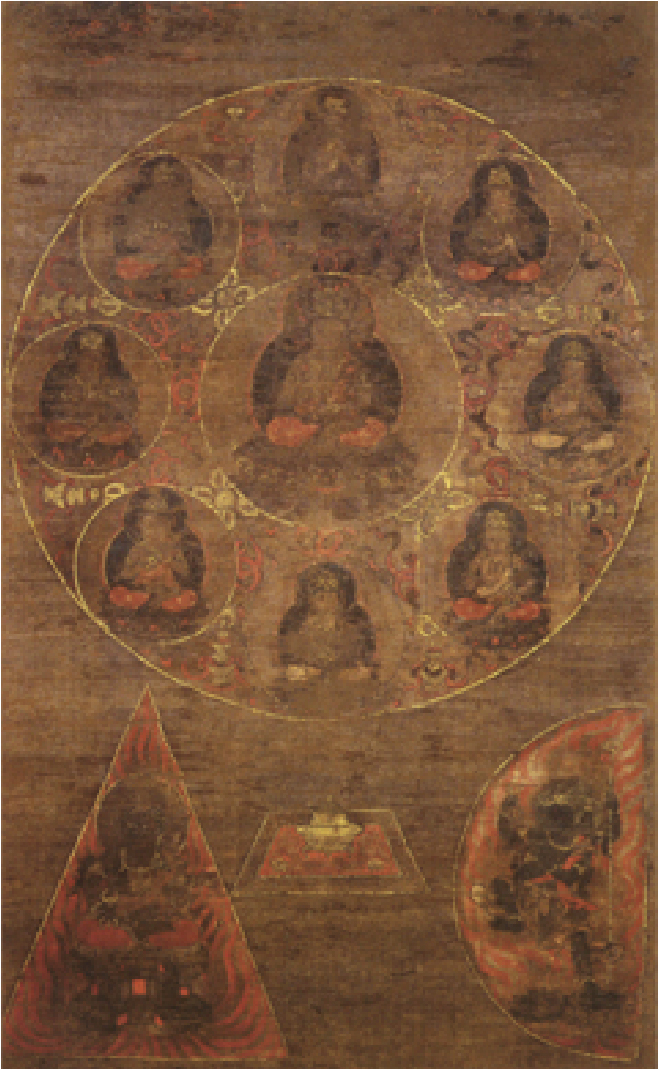 Sonsho Mandala Zu (Mandala of the Supreme Usnisa Buddhas)
The image of Sonsho Mandala is used as a principal Buddhist image in the hope of ending disasters, gaining good luck, canceling sins, and praying for rainfall in esoteric Buddhism. This painting shows Dainichi Nyorai in the center surrounded by Hachidai Buccho, also known as Usnisa Buddhas, which personify Buddha's virtue symbolized by the lump on the top of Buddha's head." Sonsho means being the most respectful and prominen. Generally, Sonsho Mandala consists of three parts; the Shudaeten on flying clouds and jeweled canopy on the upper part, Dainichi Nyorai and Hachidai Buccho on the middle part, Fudo Myo-o in a triangular red light and Gonzane Myo-o in a half moon shape on each side of the lower part. It seems that this painting used to have the upper part, but only the middle and lower part remain today.